Sumetco Alloys
erified
About Us
leading Exporter, Manufacturer, Supplier of Ferrous Metals , Non-Ferrous Metals,
CIN: U27101DL1996PTC082019
Business Type: Manufacturer
Sumetco Alloys Private Limited, a company located in Bhiwadi, Rajasthan, india, is a leading Exporter, Manufacturer, and Supplier of Ferrous Metals, Non-Ferrous Metals, and base metal products. The Company offers refined lead, selenium, calcium tin alloy, zinc, cadmium, and aluminum.
Sumetco Alloys Company Profile
Sumetco Alloys Private Limited are the manufacturer of Lead since 1948. Ever since the commencement of business operation, the only objective of our company is to usher forth a range of High premium quality Lead and Lead Alloys. In our quest for expertise, we have aligned our processes in a way that enables us to manufacture products that match our customers' requirements. We engender the process of client satisfaction by making determined efforts to deliver superior services and products every time. 
Infrastructure
                                                                                                  
 Our manufacturing unit has access to Avant grade industrial amenities and a guaranteed round-the-clock power and water supply.
Our facility is spread across a sprawling campus. It has a separate warehouse for scrap materials and finished products. We have completely equipped to operate hazardous scrap batteries and other re-cycle them in an effective manner.
Our facility is certified by the Ministry of Environment and Forests and Central Pollution Control Board, Arjun Nagar, New Delhi, Government of India, as an approved Re-cycler and Re-processor. The plant is furnished with modern machinery, material handling equipment, testing facilities, etc. which set us apart from our competitors.
Customer Satisfaction
We offer a spectrum of high caliber products combined with an admirable price structure and on-time deliveries have attained us a lot of prestige in the industry, both domestically and internationally.
Over the course of years, we have become the most economical source for a wide array of metals from scrap. Being devoted to delivering quality services and creating an epitome of brilliance, our products are appreciated by our much-revered clients at every corner of India and aboard.
Sumetco Alloys  Products & Services
Refined Lead
Lead Alloy
1-Refined Lead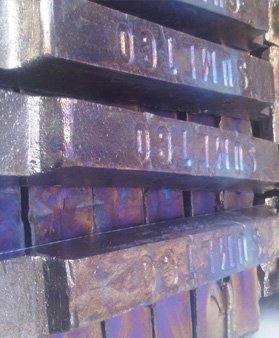 Lead is a heavy, malleable, bluish-grey metal. It is one of the metals most resistant to common corrosion problems.
The largest single use of lead today is the manufacture of the lead-acid storage battery, a vital part of every automobile Industry. Lead storage batteries are also Widly used to power such specialized vehicles as forklifts & baggage carts.
We are producers of Pure Lead Ingot with a minimum purity level of 99.97% by weight but achieve a purity level of 99.985% in most cases. Pure Lead Ingot is being produced from Raw Lead Bullion / Remelted and Secondary Lead Ingots / Lead Scraps. Our state-of-the-art Plant is fifteen Refining Kettle / Pots with capacities of 20 MT, 50 MT & 100 MT.
2-Lead Alloy
Our State of Art Plant has the capacity to manufacture divergent Lead alloys as per stringent user-industry determined specifications like Antimonial, Calcium, Selenium, Copper, Arsenic, Lead Alloy E, etc. We have kettle pots of various capacities ranging from 20-to 100 metric tonnes per batch accompanied by high-efficiency furnace oil burners equipped with preheating arrangements. Subsequently, the findings are confirmed through alternative analytical methods such as wet analysis and the Atomic Absorption Spectrophotometer. Continuous investment in our plant and utilizing technical resources ensures that Sumetco Alloys meets the diverse applications and service requirements of its customers.
CIN
U27101DL1996PTC082019
Business Type
Manufacturer
Photo Gallery
Business Hours
MON
TUE
WED
THU
FRI
SAT
SUN

09:00 am

to

06:00 pm

09:00 am

to

06:00 pm

09:00 am

to

06:00 pm

09:00 am

to

06:00 pm

09:00 am

to

06:00 pm

09:00 am

to

06:00 pm

Closed
Address Information
G-740 Phase-II Industrial Area, Bhiwadi, Rajasthan, India
GPS
28.2049557, 76.8638818
DIGITAL PAYMENT
Exporter
Manufacturer
Cheque
IMPS/RTGS/NEFT
English
Hindi
Leave a Message
we will call you back!
Frequently Asked Questions
What are the Various mode of payment accepted?
You can Make Payment Via 1-DIGITAL PAYMENT, 2-Cheque, 3-DD, 4-IMPS/RTGS/NEFT
What are its hour of operation?
Monday- 9:00 am to 6:00 Pm
Tuesday- 9:00 am to 6:00 Pm
Wednesday -9:00am to 6:00 Pm
Thursday- 9:00 am to 6:00 Pm
Friday- 9:00 am to 6:00 Pm
Saturday- 9:00 am to 6:00 Pm
Get answers to your queries now
Please login to submit your question.
Leave a Message
we will call you back!